---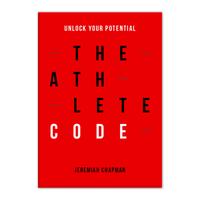 Sale
The Athlete Code is designed to help young athletes navigate their own goals and dreams while giving them practical advice on how to get there. The advice contained inside the book is what we wish we could go back and share with our 14 year old selves. While we all had lofty dreams, we didn't necessarily go ALL IN to achieve them. Knowing what we know now, we would like to think we would do things a little differently.
The Athlete Code is broken into 2 sections:
Section 1 gives athletes tools to develop an elite mindset and strategies to be more disciplined so that they can set goals and go smash them. Topics include self-discipline, goal setting, visualization and positive self-talk.
Section 2 provides simple strategies that will help athletes recover and see more benefits from the work they are already doing with their coaches including resources on hydration, nutrition, sleep and mobility/flexibility.
If you are a coach, athlete or parent of an athlete, please take advantage of this free eBook and share with others. The book is completely FREE because we want to reach and impact as many young athletes as possible and do not want there to barriers to them having access to the content in this book.